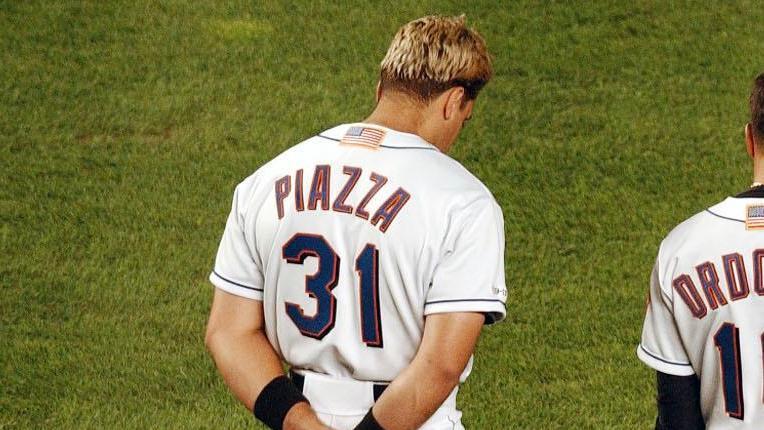 ESPN.com
:
Former New York Mets catcher Mike Piazza is not happy that the jersey he wore during the first game back after the Sept. 11 terrorist attacks is scheduled be auctioned off later this month.

Goldin Auctions plans to auction the jersey April 30 in New York City, ESPN's Darren Rovell reported last week.

"I'm very disappointed with the situation regarding my game jersey from Sept. 21, 2001," Piazza told the New York Post. "I've expressed my feelings to [chief operating officer] Jeff [Wilpon] and the Mets. And while it never should have left Citi Field, they have assured me that contact with the seller has been made and they are making a concerted effort to get the jersey back. I'm hopeful that an agreement can be reached and we can give back to the fans and all New Yorkers a piece of that evening that was more than just a game."

Goldin has said the jersey was consigned to the auction by the world's biggest Mets memorabilia collector, who lent it to the team for its museum but recently got it back to put it in the auction.

"We made a mistake in selling the jersey, and Jeff called Mike to express our regret in so doing," a Mets spokesperson said in a statement to the Post. "We have dedicated a section in the Mets Hall of Fame and Museum to celebrate Mike's achievements and his induction into the National Baseball Hall of Fame and are exploring memorabilia to display in that area. We can't verify the item being auctioned, but can confirm that our memorabilia group sold a jersey that meets this description, which was not authenticated with respect to game use."
Smh. Did Mets management really need to be
told
that this was a bad idea to begin with? Citi Field has a Hall of Fame section for a reason. The jersey belongs there.