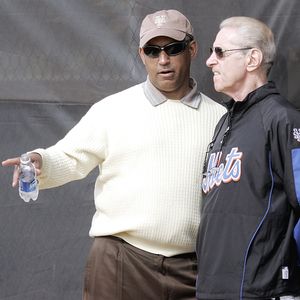 I heard about this tonight on ESPN, if it's true they can't be serious:
General manager Omar Minaya and the Mets have agreed on a four-year contract extension, SI.com has confirmed. An official announcement is not expected until after the season.

Minaya's several high-profile acquisitions have built the Mets into a perennial contender in the National League, and while the timing of the news is a little unusual in that the Mets are struggling in September for a second straight season, an extension was expected all along based on the club's overall improvement during his tenure. He also enjoys an excellent working relationship with the Wilpon family, which owns the Mets.
Unbelievable! And yet another example of why the Wilpons should sell the team. The Mets are on the verge of collapsing for the second straight season and ownership is busy working on an extension for a GM who stood by and did NOTHING to fix his team's most blatant problem. God, where is Nelson Doubleday when you need him?