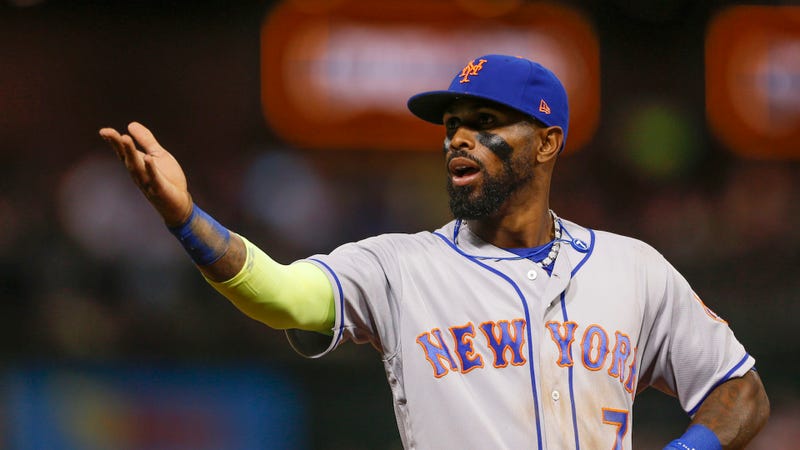 Deadspin.com
:
Mets converted third baseman Jose Reyes is absolutely lost at the plate so far this
season, and Terry Collins seems like he's ready to pull out his hair over the slumping veteran. The Mets are only nine games into the season, and small sample sizes can render early season trends meaningless by September, but Reyes is really stinking up the place.

In 38 plate appearances, Reyes has had two hits, one walk, and 11 strikeouts. Collins initially had Reyes batting leadoff, but he was dropped to the seven-spot Tuesday and Wednesday, and looks headed to the bench for at least the next two games against their division rivals in Miami.

One of those hits was off Clay Buchholz during a game in which the Phillies' pitcher gave up eight hits to the 16 batters he faced in two-and-a-third innings before leaving the game with a forearm injury. A hit is a hit, but that one doesn't inspire much confidence.

Reyes is putting a ball into play in only 7.7 percent of opportunities, the lowest in the league among qualified players who've had a hit (Russell Martin and Austin Hedges, we see you). He's not even making productive outs, if you believe in that type of thing. He's bad. You get the point.
I know that it's only been 9 games and there have been a few times where he's been a little unlucky, but I've never seen Jose Reyes look more awful than he has at the start of this season. Of course, the easy answer is to give Wilmer Flores more at-bats and play him at 3rd, but Reyes is better defensively and obviously gives you more speed on the bases too. Then too, I hate seeing Reyes bat 7th in the lineup--the guy's a certified leadoff hitter.
RELATED:
Why Jose Reyes might not be long for Mets