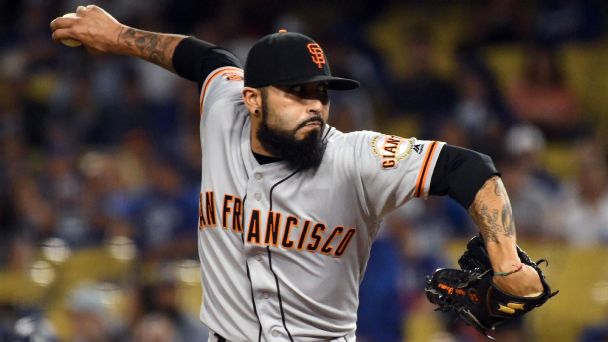 NYDailyNews.com
:
They could use a lefty, to be sure, but Blevins actually was more effective getting righthanded hitters out than lefties last season, and the Mets have righthanded relievers who have success against lefties.

Perhaps more significant, if Romo is healthy, after missing time due to an elbow injury last season, he has the most history of getting big outs, and his slider is a weapon.

"When his arm is right, he still has a plus-slider with depth that gets righties and lefties out," one NL scout said. "He had the elbow problem last year but looked pretty good late in the season."

Because of the elbow injury that sidelined him for most of the first half of the season, Romo pitched only 30.2 innings for the Giants in 2016, but his numbers were solid. He wasn't nearly the biggest culprit in their bullpen problems that haunted them late in the season and in the postseason, pitching to a 1.86 ERA in September.
What with Jeurys Familia still
possibly being suspended
to start the season and Jerry Blevins apparently
asking for too much
than the Mets are willing to give him, I'm very curious as to why the Mets haven't signed Romo. The guy's stats last season were pretty good (tho he was injured for a 3rd of 2016), he's been a closer and thus knows how to handle big-game pressure situations and most importantly, not including Addison Reed, he's better than anything the Mets have in the bullpen right now. So unless there's something we don't know, the Mets need to sign Romo already, esp with the Nationals possibly wanting him too.